Although it was meant to kick off this week, it comes as no surprise that Mobile World Congress has been cancelled. It began with LG and then ZTE and then Ericsson AB pulling out on the 7th February. Other big-name attendees rapidly followed suit; Sony Corp., Nokia Oyj, Vodafone Group Plc and Deutsche Telekom AG all echoing the decision made by Ericsson. We carefully watched the notices roll in as we were pipped to go. However, the numbers stacked up and for the first time in its 33-year history, MWC announced that the event would not be going ahead.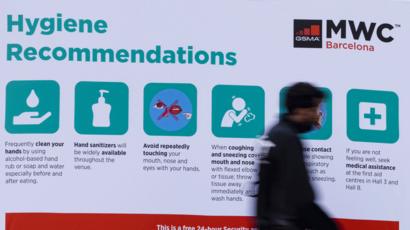 (Source: _110872784_mwcsign2.gif)
The reason? The mass outbreak of the Coronavirus or Covid-19 (whose renaming will catch on as well as fetch did). The current outbreak is reported to have affected approximately 60,407 people internationally, although most cases are confined to mainland China. The number of deaths has overtaken those killed by SARS in 2003, another respiratory virus epidemic.  Coronavirus has killed approximately 1,370 and so Mobile World Congress understandably decided that it was better to be safe than sorry.  
As many phone companies are based in China, some companies felt that they were risking the 'safety and well-being of all [of their] employees and partners' if they chose to attend. With roughly 100,000 people attending Mobile World Congress, the potential for infection and uncontrolled spread was higher than most felt was safe.  
(Source: mwc-intro.jpg) 
As John Hoffman, GSMA's CEO, stated, "With due regard to the safe and healthy environment in Barcelona and the host country today, the GSMA has cancelled MWC Barcelona 2020 because the global concern regarding the coronavirus outbreak, travel concern and other circumstances, make it impossible for the GSMA to hold the event." 
Hoffman continued, "The Host City Parties respect and understand this decision. The GSMA and the Host City Parties will continue to be working in unison and supporting each other for MWC Barcelona 2021 and future editions. Our sympathies at this time are with those affected in China, and all around the world." 
It is understood that the announcement was made after attempts to lobby the Spanish government to declare a health emergency, which would have allowed MWC to claim back insurance (as understood by WIRED). While we suspect that MWC have breathed a very small sigh of relief as they were clocking up big holes in their itinerary with press release cancellations, a few folks have asked why the showcase can't go ahead virtually.  After all, it is an event to highlight the progression made in the mobile world, so what better way to showcase that then digitally. Whilst this is indeed one solution, it will never quite replicate what MWC is known for. The issue is that MWC isn't just about revealing the next big thing in the smartphone world. It is all about the networks created, the deals brokered, the conversations had and the debates sparked. Skype can do a lot, but it can't quite do that.   
(MWC_Barcelona_2019_Generic-e1580906438163.jpg) 
Another struggle is that MWC is a massive cash cow, for both set-up and attendance. The money spent on flights, accommodation, staff and other sundries can be extortionate. Some of that might be able to be reclaimed via insurance, but unless you ticked 'communicable disease coverage', you may be fresh out of luck. To give some context to cost, Ericsson's empty booth was worth $6.5 million alone. By shutting the event, MWC effectively shut down the predicted return on investment, which might have an impacted on next years' 2021 conference.  
But on that note, the closing of MWC means that companies are having to think about reshaping how they were originally going to showcase their latest products. Some, like Sony, have chosen to go ahead with a launch – just a digital version over YouTube. Some, like Kerlink, are doing virtual booths.  Others are scrambling to think how they can replace the pomp and circumstance that MWC gave their big reveal. It will be a thrilling, if stressful, time for strategic marketing and original approaches. 
Nevertheless, you may have seen an announcement recently regarding MWC's replacement event – Tech Spirit Barcelona.  According to Sifted, 'there will be more than 50 events over two days, compromising panels, key-note speeches and meet-up style events between start-ups and investors.'  What a win for Barcelona, which shows once again that when everyone bands together, great things can happen.