Diverse workplaces​
Technology has come on in leaps and bounds over the past few decades. In the 2000s, GPS was put into the hands of the general public, Facebook launched four years later, and the iPhone first hit stores in 2007. Then along came the iPad in 2010 and the Alexa ecosystem in 2015. Although these are only a few of the big hitters, it just goes to show how very far technology has progressed in two decades.  
However, there is still an area that it falls short in – diversity. The lack of diversity in the field of technology is something that comes up year after year. In particular, the number of women in the workplace and in leadership roles. There are fewer female CEOs than there are men in leadership roles with the name David. The list of chief executives of the FTSE 100, the index of the UK's largest publicly listed companies, is still 94% male.  In 2018, 20% of all jobs in technology were held by women, and yet 72% of girls express a desire for a career in STEM fields. So, there's clearly a way to go until we see more women in leadership positions and in the field of technology, but the desire and passion are there!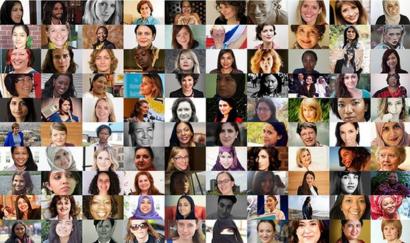 (Source: _108823870_ced9ad1b-6700-4139-84a2-7164a4688e42.jpg)  
Tackling the problem 
The first step to tackling a problem is openly admitting that there is one and to a large extent, that's currently being done. Yet, there is a distinction between openly admitting a problem and then hiring a token woman to point to her and go, 'look, we're diverse!' Diversity and inclusion shouldn't just be a tick-box on the corporate social responsibility (CSR) checklist.  Particularly in technology, where only 16% of people at a senior level are female, dropping to 10% at an executive level.  
There has to be both a top-down and a bottom-up approach.  
Role models, such as Martha Lane Fox (founder of lastminute.com and the government's Digital Inclusion Campaigner), Susan Wojcicki (joined Google the year after it was founded and was behind the first ever Google Doodle, now head of YouTube) and Juliana Rotich, (executive director of Ushahidi, a free open-source software company) are brilliant women to inspire the next generation. For even more women to inspire you, head over to the Forbes list of 'The World's Top 50 Women in Tech'.  
However, there is still so much more to be done. We need to see women at the top and throughout the ranks; the hiring process should create teams that are diverse in all senses of the word, as that is how great ideas are fostered. For example, racially and ethnically diverse companies outperform industry norms by 35%.  Companies that are inclusive are 1.7 times more likely to be innovation leaders in their market. It just goes to show that actively hiring for a more diverse workplace has a heap of benefits! 
How do we get more women into tech and create a more diverse workplace?  
Well, there are a number of ways. We're proud to say that we're sponsoring California's largest all-female high school and collegiate hackathon, Superposition IV. It's one of the oldest and largest hackathons for female-identifying high school and college students in North California, with a total of 264 attendees and 61 projects. It's vital to provide a strong support base that women can harness, as well as realising that support is out there if and when they need it. Here at Pycom, we don't believe that women should be a novelty in tech and that diversity in the workplace should be the norm. Work should reflect society in all its brilliance.  
(Source: Copy of _DSC9081 (2).jpg)  
We don't just talk the talk here though; we also proudly walk the walk. Here's what our co-founder and COO, Bettina Rubek-Slater had to say.  
'Pycom is an all-inclusive organisation and this is evidenced by our deliberate recruitment strategy centred around creating a diverse workforce. We have team members from all over the world, which leads to fantastic discussions. By having such a global team, we find that problems are approached in a multitude of different ways and are always combinations of different experiences and perspectives.  
We are also proud to say that we are actively looking to recruit more women into our workplace and have already hired quite a few brilliant minds. We selected Superposition IV because we truly believe in its ethos of diversity, inclusion, and innovation. By promoting and encouraging young women who are interested in technology, they demonstrate that the industry is a very viable option to have a great career in. Technology is dynamic and fast-paced, and if you are happy with that, then there should be no barriers to getting a foot on the employment ladder in it, regardless of gender, ethnicity, background or orientation. 
Take it from me: I have spent the last 20 years working at the forefront of what technology can deliver to the world. Over the years, I've carved out my space in it and felt at ease within it.  With everything and everywhere becoming connected, technology will underpin everything around us. It's a fantastic route to get you to wherever you want to be and allows for multiple career forks. For me, being in tech should have nothing to do with gender, orientation or way of life. It's simply a choice that revolves around interests and motivation.'